Tennis BC - our tennis partner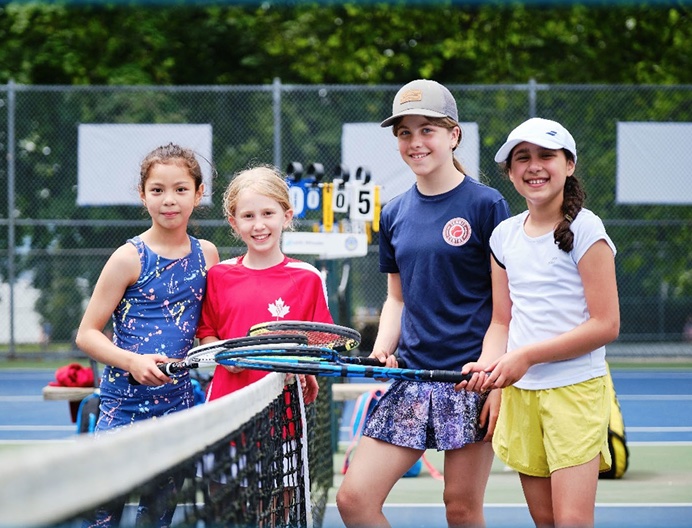 The SRC is a Silver Club Member of Tennis British Columbia (Tennis BC) which is the official governing body of tennis in the Province of British Columbia. It is a non-profit organization, whose main goal is to inspire and enable the growth of tennis throughout the province of BC, in conjunction with Tennis Canada.
80 Member Clubs 13 ,000+ Individual Members 24,000+ Participants
Tennis BC collaborates with and collectively services over 23,000 participants each year, are a valuable resource in helping our new clubs as they start up and offer mentorship to all club members so they can grow and sustain memberships and a healthy program structure.
Tennis BC is on hand for Clubs and tennis players with any questions and provides guidelines, recommendations and protocols to ensure the safety for everyone involved.
Tennis BC values the opportunity to work with its many stakeholders such as Tennis Canada, viaSport, International Federations, government, corporate, media and community partners who are all catalysts in the success towards the growth and exposure of this great game!
Tennis BC members include - 22 Gold Clubs | 12 Silver Clubs | 24 Community Clubs | 6 Recognized Tennis Associations
10 Public Tennis Centres | 6 Social Clubs
The 12 Silver Clubs, including SRC Tennis, are:
Coquitlam Tennis Club
Global Fitness Centre
New Westminster Tennis Club
Prince George Tennis & Pickleball Club
Richmond Tennis Club
Salmon Arm Tennis Club
Salt Spring Tennis Association
South Cowichan Lawn Tennis Club
Suncoast Racquet Club
The Arbutus Club
West Vancouver Tennis Club
White Rock Tennis Club
TENNIS DEVELOPMENT & COMMUNITY ENGAGEMENT
To achieve its main goal - to inspire and to enable the growth of tennis among all ages and levels throughout the province - Tennis BC focuses on building relationships with community partners to provide the following opportunities for participation:
Kids' Team Tennis on BC Day - Thanks to the generous grant from Sport BC, Tennis BC was able to implement a Kids' Team Tennis on BC Day across the Province.
Girls in Action (Surrey afterschool programs) in 7 locations
Society for Kids at Tennis (Vancouver Island)
Britannia Boys & Girls Club
StrongHer program (BC Basketball Foundation) – in 2021, Tennis BC piloted a partnership program with the Robert Lee YMCA for Immigrant & Refugee Women & Youth. This program was so successful, that in the Spring of 2022, we increased the program to two eight-week sessions.
PLAYER DEVELOPMENT
The focal point of the competitive season in 2021 was the 89th Leith Wheeler Stanley Park Open, which took place over the course of seven weeks in a non-traditional format. The event encompassed both adult and junior play, with an emphasis on 4-and 5-Star junior events, which allowed BC juniors to qualify for the Fischer Junior Nationals in September.
Upon the successful completion of the Junior Nationals, the Tennis BC team worked to create more competitive opportunities for the 4-Star level players with nine consecutive weeks of tournaments at the TBC Richmond Hub.
The fall of 2021 also saw the return of the J4 and J5 Junior ITF (International Tennis Federation) events in North Vancouver and on Vancouver Island.
U9/10 YOUTH PLAYERS
The Future Stars Circuit was rebranded in 2021 to launch as the U9/U10 Orange and Green Ball Circuit.
In 2022, over 126 boys and 73 girls entered the U9/U10 circuit. Some experienced their first tournament ever, whilst others returned to play their 14th.
Tennis BC held 17 U9 events and 25 U10 events across the country from January to August and are utilizing the Hubs in Fall 2022 to host 14 tournaments. They also hosted 3 fantastic kids' team tournaments. These events give players a chance to compete but also have fun and make friends. They will likely be playing against and with these same kids in this age group as they age, so creating those connections at an early stage enables retention and engagement in tennis in the years to come.
Information source: Tennis BC Annual Report 2021-22