Our next big event - The Brudermann Cup 2022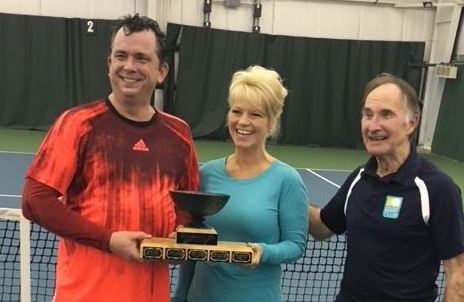 Sunday November 13, 2022 – All Day Event From 9am
This Mixed Doubles Tournament is back on! Make it a date for your calendar!
The Brudermann Cup, is named after Friedl Brudermann (right in photo) who enabled the new Club facility to be built, and to whom the Club is grateful.
It's a members only, all-day event and the Entry usually fills up quite quickly. The format is usually based on 16 players, two sets of 2 groups of 4 where everyone plays everyone. Play starts at 0900 and is organized into two rounds, then at 1pm there's a cold-buffet lunch break and it's onto semi's and the Final in the afternoon.
Marian Shoemaker has once again agreed to be Tournament Director for the day, so we can guarantee an action-packed day of competition and lots of fun. Entry is now open, so email your entry to Marian now. The entry fee is $20 which includes a cold buffet lunch. Payment is by cash on the day. If you have any questions and would like to get in touch with Marian her email is – [email protected]
Here's a snap from a previous Brudermann Cup to whet your appetite….
In photo - Mike Zanchetta (left) with Marian Shoemaker and Friedl Brudermann (right) our benefactor.