Year-round Coaching in groups or 1-2-1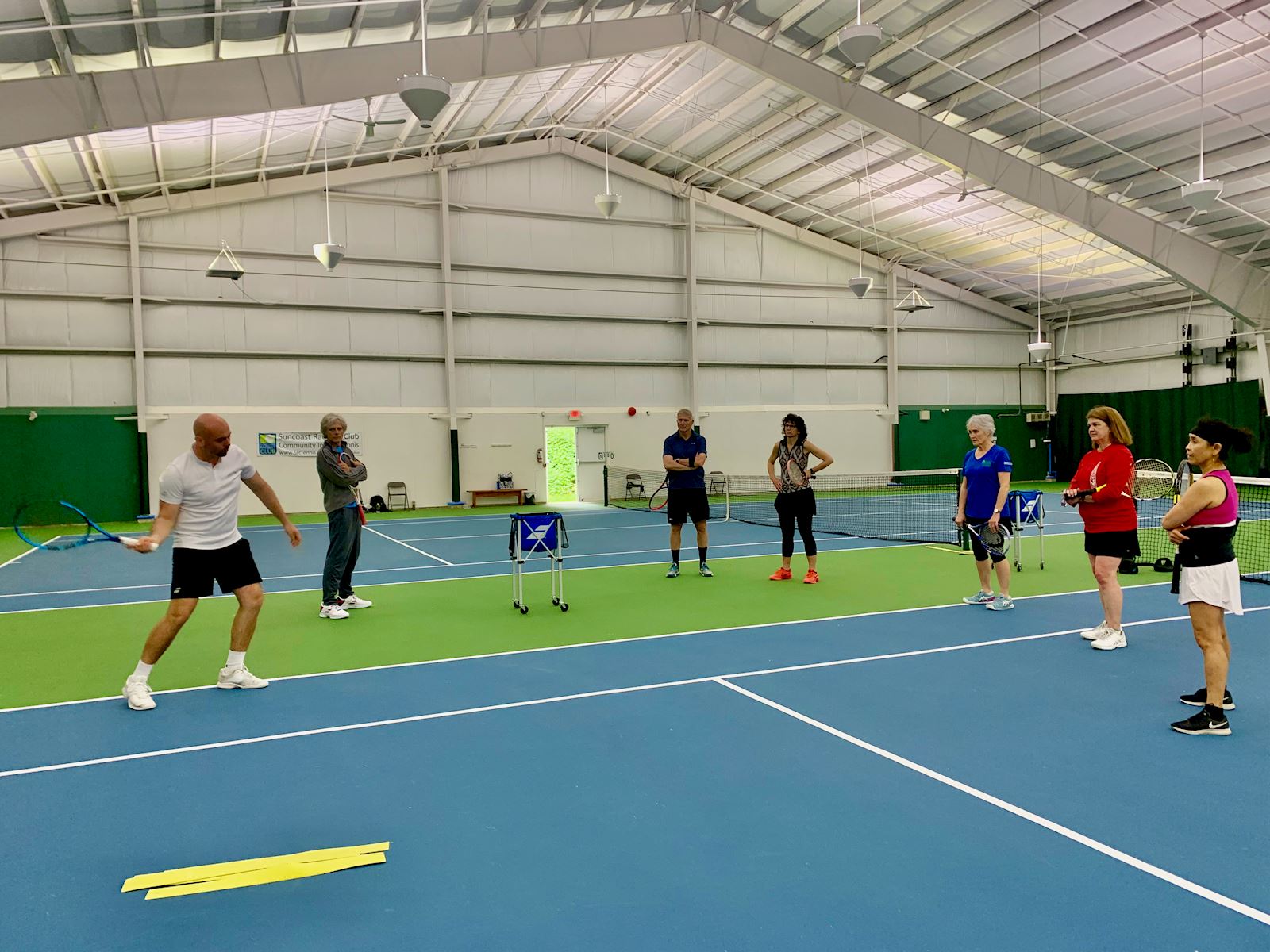 We offer coaching Clinics year round.
Uros Budimac is a USTF accredited Pro Coach and resident coach in West Vancouver. We are fortunate to have him associated with our Club and coach our members here on the Coast with Jacques.
Jacques Joyal our resident Club coach offers personalized coaching in singles, in pairs and in small groups. If there's any specific asepct of your game that you'd like to improve, just starting out or picking up a racquet again after many years, he offers expert coaching for beginners, improvers and those wanting to polish their game.
Skills & Drills Clinics by Uros
These are usually 3 hour-long sessions where a group of 6 are coaching on key areas of tennis. Everyone goes away with having learned some new tactics and techniques to get the best out of their game, such as how to protect the middle court area in doubles, serve action or attacking net play.
Spring2023: Adult 'Skills & Drills' Clinics Program: By popular demand, we are hosting more Sunday sessions each month with Uros Budimac.
Sessions are from 9am - 12pm (2.5 level) and 1pm – 4pm (3.5 level)
Cost is $135 per session, once registered payment is in advance by e-transfer to

[email protected]
To book a place in either group, please contact Tamara at: 604-740-1078 or Uros Budimac at: [email protected]
The key Sundays for these Adult Skills Clinics are:
January 29 - Dominating Net Play
February 12 - Attacking
March 5 - Dealing with Lobs
April 2 - Serve & Return
The sessions are usually focused on 1.0, 2.5, 3.5, and 4.0 or 4.5 level players.
Extra sessions are being planned on the same dates to allow members who have been coached and improved with him to keep on developing their skills.
2023 SPRING COACHING PROGRAM - Jacques' Midweek Skills Clinics are affordable weekly sessions focused on key tennis skills and drills and tieing in with themed sessions by Uros.
PRE-REGISTRATION IS REQUIRED. STARTS ON FEBRUARY 14TH, 2023
To book – email Jacques at: [email protected] and text his cell: 604-741-7858. Members can pay with cash.
Adult Evenings – Tuesdays 6.30 - 8pm (INTERMEDIATES) and Thursdays 6.30 - 8pm (BEGINNERS):
Intermediate sessions are based on personal needs in the groups and will also cover the same key skills as Uros sessions to provide consistency and ongoing affordable coaching.
Beginners Coaching is based on a starter pack for 4 sessions to ensure a good start, developing together as a group and building confidence.
INTERMEDIATES SINGLE SESSION - Cost is $50+GST per 1.5hour long session.
BEGINNERS PACK OF 4 SESSIONS – Discounted cost $140+GST TOTAL.
Adult Daytime - Tuesdays at 2.00 - 3.30pm on Court 2: Intermediate Tennis
As per Evening sessions, for those who have time in the day and prefer to travel in daylight to/from the Club.
INTERMEDIATE SINGLE SESSION Cost is $50+GST per 1.5hour long session.
INTERMEDIATE PACK OF 4 SESSIONS - Discounted cost $160 TOTAL.