Year-round Coaching in groups or 1-2-1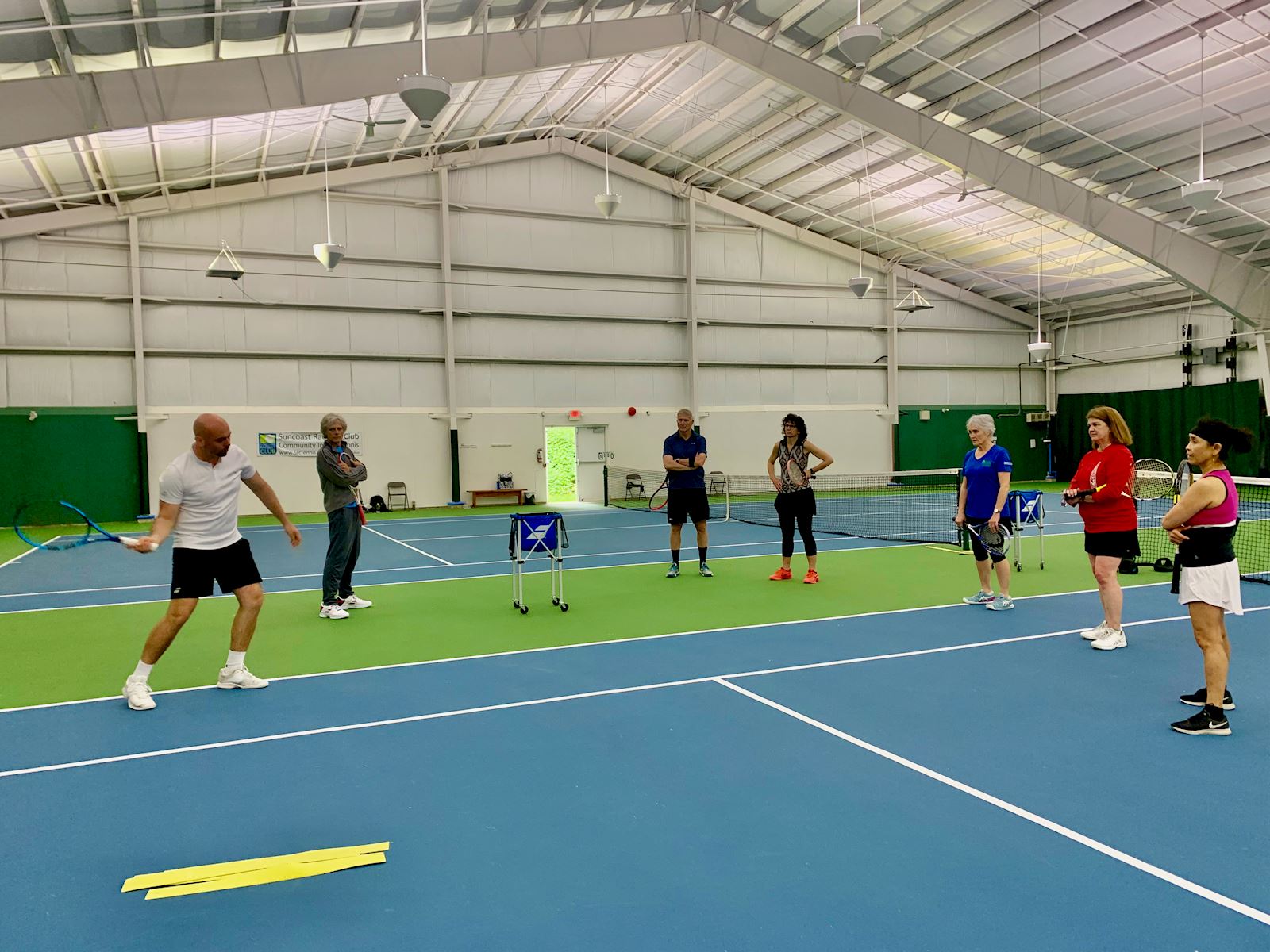 Year-round: Jacques offers personalized coaching in singles, in pairs and in small groups. If there's any specific asepct of your game that you'd like to improve, just starting out or picking up a racquet again after many years, he offers expert coaching for beginners, improvers and those wanting to polish their game.
Spring 2022: Women's Doubles Clinics
Uros Budimac is a USTF accredited Pro Coach and resident coach in West Vancouver. We are fortunate to have him associated with our Club and coach our members here on the Coast with Jacques.
This Clinic was a 2.5 hour session where a group of 6 were personally coached by Uros and each received a signed copy of his new book for Women's Doubles Tennis called "Mine!"
Everyone learned some new tactics and techniques to get the best out of their doubles play, how to protect the middle court area and how to attack from the front.
Fall/Winter 2022: Adult 'Skills & Drills' Clinics Program: By popular demand, we are hosting more Sunday sessions each month from October to December 2022 with Uros Budimac.
There are two groups per Clinic: at 0900-1200 and at 1300-1600. The cost per session is $135 for 3hours court tuition.
To book a place in either group, please contact Tamara F. Jacobsen at: 604-740-1078 or Uros Budimac at: [email protected]
The key dates for these Adult Skills Clinics are:
Sunday Sept 11 – Net Play
Sunday October 23 – Serve & Return
Sunday November 6 – Building & Attacking
Sunday December 11 – Attacking & Net Play
Jacques' Midweek Skills Clinics:
Daytime: If you want an affordable weekly session, Jacques is holding focused Skills Clinics on Tuesdays from 2-3.30pm, starting on Tuesday Oct 11th with Net Play.
Evening : These focused Skills Clinics are set out on these dates below.
Tuesday Sept 27 - 6.30-8pm - Net Play
Tuesday Nov 8 - 6.30-8pm - Serve & Return
Tuesday Nov 22 - 6.30-8pm - Building and Attacking with Groundstrokes
Tuesday Dec 20 - 6.30-8pm - Attacking & Net Play
The cost is $50 per 1.5hr session. There needs to be a minimum of 4 and a max of 8 players per week. Booking is now open so don't delay.
To book just email Tamara and let Jacques know directly by text to his cell: 604-741-7858 or email: [email protected]