Competition
The Sunshine Coast Open Tournament, July 29-30th 2022
Wed, 31 Aug 2022 00:00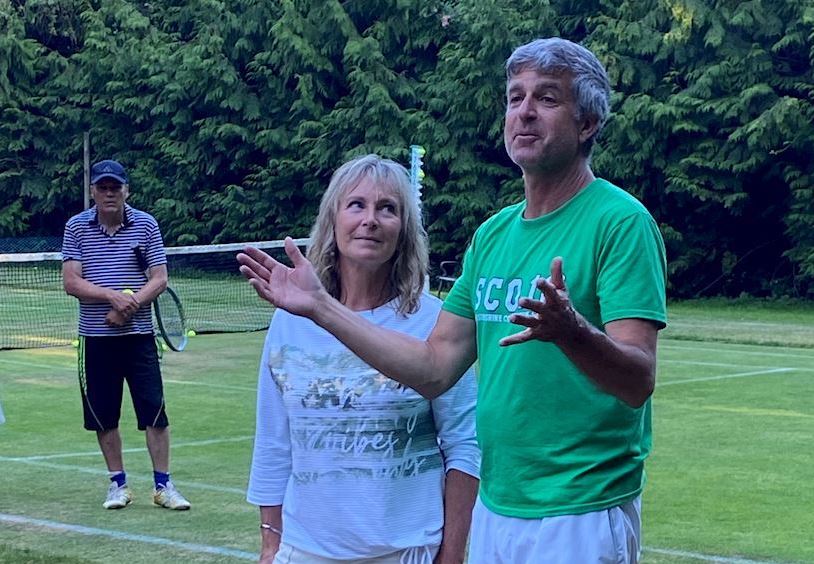 Local courts see the return of 47th Sunshine Coast Open Tournament
This fun, competitive tennis event celebrated its 47th Annual Open on 29-30 July and delivered an exciting full draw of play in 30+C heat across two scorching days of great tennis. Many SRC Club Members and friends played. The matches were played on hard courts in Gibsons at the newly painted courts in Dougall Park, on grass in Roberts Creek and also at the hard courts in Parkland, where a mother bear and her cubs came along to watch and stopped play for a time, while we got our cameras out 😊 Rain might stop play at Wimbledon, but never bears!
The popular Mixed Doubles saw a 16-team entry as soon as the registration opened and a waitlist of players still wanting to enter. The organizers hope to expand next year (across more courts, nudge nudge!) especially as it helps players have a rest between matches.
Here are the results and some pics from the Tournament:
Mixed Doubles – Shelley Lawrence/Gustav Guzek -retained their title by beating Australian father and daughter duo Selkie & Michael Smith: 6-3, 6-0.
Women's Doubles – Marian & Madison Shoemaker – local mother & daughter duo had a convincing win over Stephanie Maricevic & Jennifer Wood: 6-0, 6-2. Women's Doubles Consolation match was won by Sandra Watt & Shelley Baker.
Men's Doubles – Gustav Guzek & Otto Grunow – local nephew-uncle bandits despatched Victoria-based Steven Lorenzo-Baileys & Michael Smith: 6-3, 6-4.
Men's Singles – Chad Brachat had a walkover win vs Josh Kalef who forfeited the match/win.
Women's Singles – Janet Schembri vs Adele Wood – this was a 3-set thriller in the intense heat as both women went toe-to-toe in a gruelling match with long 15-20 shot rallies, phew! : 6-3, 5-7, 11-9.
Well done to all the participants for playing in such heat and especially to the winners who triumphed on the day.
Huge thanks to Shelley & Darcy Lawrence and the SCOT Committee for organizing a successful Tournament, with great sponsorship, prizes, registration swag bags and salmon BBQ catering at the grass courts in Roberts Creek to round off the Tourney.
We look forward to the next one and hope to see lots more local participants from the Coast and beyond.