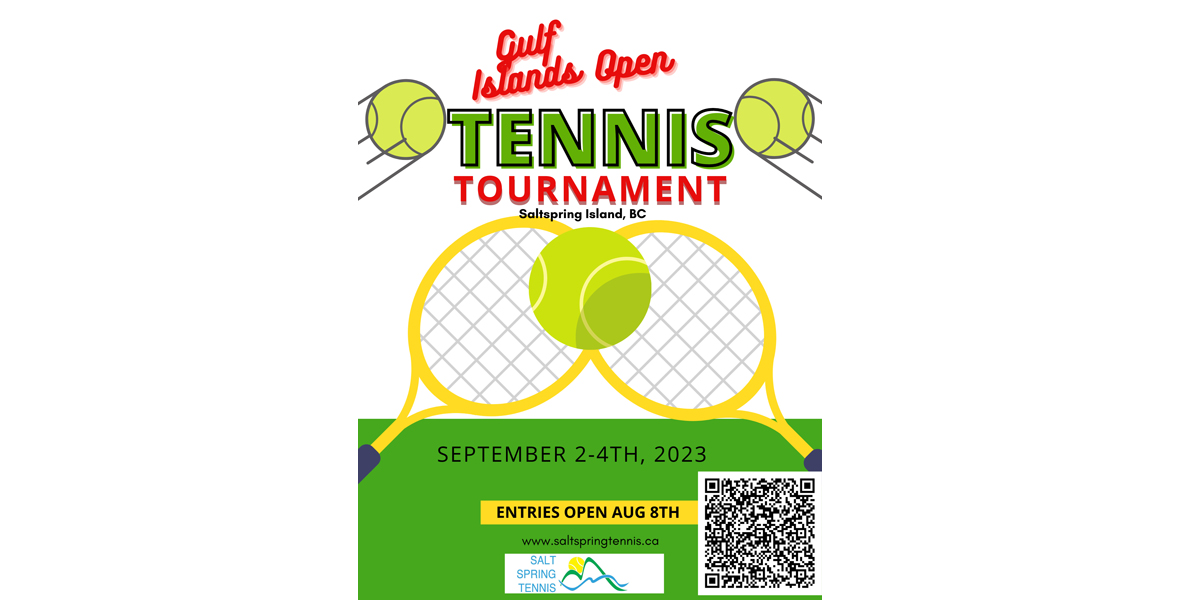 The Gulf Islands Open, the SSTA's major annual competitive tournament, will be held this year Friday to Sunday September 2nd-4th. All events are open to any tennis player old and young, SSTA member or not. Events include men's and women's singles and men's, women's and mixed doubles. To register, fill out the registration form here or scan the QR code from the poster. Registration closes Wednesday August 30th.
Follow the draws and view the match scores here.
If you'd like to help out with the event, please sign up on our volunteer page here or email Tournament Director Justene Tedder at [email protected] for more information.
The second leg of the Fixed Doubles ATP Tour-Style Tennis Challenge ran Saturday and Sunday June 24th and 25th on the indoor courts. This time out, 13 teams in 3 divisions wracked up points towards the ultimate prize of the Tour Challenge Championship. At the halway point in the Tour, our points leaders are Judy Kirk and Erica Ross with Shelly Johnson, Chris Marshall, Dave Blizzard and Dave Naphthali close on their heels just one point back. View the Match Results here and check out the Tour Points Standings here. If you'd like to know more about this event, here's a description. Want to get in on the action and earn points towards being a Tour champion, save the date for the third leg of the Challenge - Saturday September 30th and Sunday October 1st.
The first of four Fixed Doubles ATP Tour-Style Tennis Challenge events took place Saturday and Sunday March 25th and 26th on the indoor courts. 18 teams in 4 divisions competed for points towards the Tour Championship. Check out the Match Schedule and Rules and the Results and view the current Tour Standings. Keep the date open for Event #2 on June 24th and 25th.
Hallowe'en is just around the corner. That means it's time again for the Hallowe'en Chunk-A-Punkin Poker Challenge. This year, we're combining the tennis with a spooky social in the mezzanine. First 12 men and 12 women (including juniors) to sign up get to play. See here for all the details.
The Gulf Islands Open is BACK!! Over 30 competitors will play on the indoor and outdoor courts of Salt Spring in the 2022 edition of this Labour Day classic. Matches in men's and women's singles as well as men's, women's and mixed doubles will be played Friday afternoon and Saturday, Sunday and Monday.
Check out the draws, find a match to come and watch and follow the scores with live match updates here.
Twenty-four players participated in the Hallowe'en Chunk-A-Punkin Poker Challenge on Saturday October 30th. Though we were indoors, it was a beautiful day and we enjoyed lots of socializing out in the sunshine between rounds. Babette Arnoldus, decorator extrordinaire, had the whole place spooked up with witches and skeletons and many donned tennis-friendly costumes in keeping with the season. We wrapped up the day with a fun skill event. Photos (kindly taken by Michael Powell and John de Bruyn) can be found here with a video by Michael here. Thanks to Chunk-A-Punkin operator and round 1 food provider Dave Youngson, Tournament Team members Tim Dubois, Jean Southgate, Dave Naphtali and Michael Gooblar, Assistant Tournament Director and round 2 food provider Mary Richardson and all those who contributed and assisted with this fun-only event.
The So Be It Spring 2021 Team Singles Tournament In-Slow-Motion was put into motion by Blair Clarley, Tournament Director, spurred originally by a suggestion from Mike Chin, who reported on a successful women's singles tournament early this year at the Salmon Arm Tennis Club. Follow the 28 participants in 4 teams in this long running event with Blair's Weekly Blow-by-Blow.
Looking for the box league? It can now be found in the members only area.
---