Club
LEAGUE sign-up for WINTER 2022
Mon, 22 Nov 2021 00:00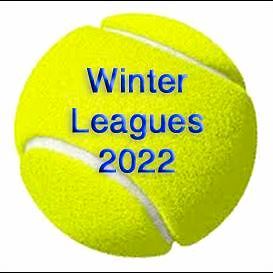 WINTER LEAGUE SIGN-UP 2022
EMAIL REQUESTS FOR LEAGUES TO: [email protected]
TENNIS LEAGUES INFORMATION:
Please be aware that all league participants are required to be fully vaccinated with both shots to participate in an organized league. If you have not submitted your proof of vaccination to SSTA, please do so by scanning your document to: [email protected]
Leagues are scheduled tennis games with different partners and opponents each week - no scores are recorded (except in the team leagues).
Players are committed for all weeks, spares are substitutes for players who can't play in their spot that week.
See the schedule below showing available times and some important details about the leagues offered.
Sign up for the leagues you want to play or spare in by December 5th
You must email: [email protected] with your league choices, rating (if choosing a rated league) and whether you are a player or a spare.
Please also include your current phone number *.
You will be put into the league if you sign up as a player.
The Winter Sessions will run January 3rd to March 25th (12 weeks).
(Please note that regular play continues on statutory holidays)
FEES:
All league fees for court time are to be prepaid by December 31st. If you have signed up for a league and have not paid your fees by the deadline you will not be permitted to play. Please respect the process.
1.5 hour sessions cost $10.50 per doubles player per week
2.0 hour sessions cost $14.00 per doubles player per week .
You will receive an email directing you to the SSTA web site where all leagues will be posted and fees will be listed. *If you do not want your phone number listed on the web site please let me know when you sign up and it will be removed from the lists.
Wait until you have seen confirmed leagues before paying fees.
Spares should arrange the payment of the court fee with the player they are replacing.
PAYMENT:
Once leagues are confirmed (by email) and posted on the web site payments are to be paid by cheque or e-transfer. Cheques can be dropped off in the League box at Ross Court. (Cheques to be made out to SSTA.)
Or by E-transfer by emailing payment to: [email protected]
Please note which league you are paying for.
Payments are due by December 31st. Please do not make us chase you.

RATINGS:
You will need a mandatory rating to enter all rated leagues 3.0, 3.5, and 4.0.
If you want to enter a rated league but have no formal rating speak to Pete Schelling early and arrange a formal rating. Contact him at [email protected]
The ratings assessment is a great way to find the areas of your game you can improve. We have excellent coaches to guide you toward your goals.
For Tennis Canada's Tennis Self Rating Guide go to:
https://www.tenniscanada.com/wp-content/uploads/2015/12/Self-Rating-Guide-English.pdf
WINTER LEAGUE SCHEDULE - 2022
WOMEN'S DOUBLES
Monday
1:00 - 2:30 PM
3.0 players
Wednesday
6:30 - 8:00 PM
all players
Thursday
8:30-10:00 AM
3.5 players
Thursday
10:00 - 11:30 AM
all players
MEN'S DOUBLES
Monday
6:30 - 8:30 PM
4.0 players
Tuesday
9:00 - 10:30 AM
all players
Thursday
1:00 - 2:30 PM
3.0 players
MIXED DOUBLES
Tuesday
6:30 - 8:00 PM
3.0 players
Friday
9:30 - 11:00 AM
3.0 players
NOVICE PLAYERS (with coaching)*
Thursday
6:30-800 PM
MIXED TEAM DOUBLES**
Friday
6:00-8:00 PM
4.0 players**
January 7th-February 11th
3.5 players**
February 18th -March 25th
NOTES:
** MIXED TEAM DOUBLES
Limited to 4 players per team (2 male and 2 female). Games will be played over 6 weeks with
2 teams playing each evening. Thus you will play 4 out of the 6 weeks. Pete will form the three teams. Each evening of play you will play a men's or women's double match and a mixed match.
* NOVICE LEAGUE WITH COACHING
This is limited to 8 players and an additional fee of 10:00 per person per day will be added for coaching and paid to the coach. This is open to novice players only and open to males or females. This is a unique opportunity to be involved in a league that included coaching
IMPORTANT NOTICE
The league sheets will not be emailed out to everyone but instead will be posted on the SSTA website. Click on the Member Login tab on the top menu, then login and click on League Schedule. A clickable League Schedules PDF files option will appear. Double click on desired PDFs to view and to print. You will be notified by email when the Winter League Schedules are available on-line.
Our mailing address is: