Summer Junior Tennis Lessons
Junior Lessons for 2022 have a different look from years past. We have made changes to maximize our available instruction time and to introduce some sessions for games for our afternoon older players.
Morning sessions for the young beginners are now 45 minute sessions, Mondays to Fridays. This allows us to accommodate all our age groups between 9am and 5pm, and is more suited to the younger players' ability and maturity levels.
In the afternoon sessions for older kids, each group is given 1 hour of instruction 3 days per week instead of daily (see schedule below). This allows us to now offer a daily open session from 4 to 5pm on courts 2 and 3 for games and competitions for any of the afternoon players who wish to drop in on that day. (A number of parents had expressed interest in providing this type of session, allowing the kids to start playing and using the skills they get in their lessons.)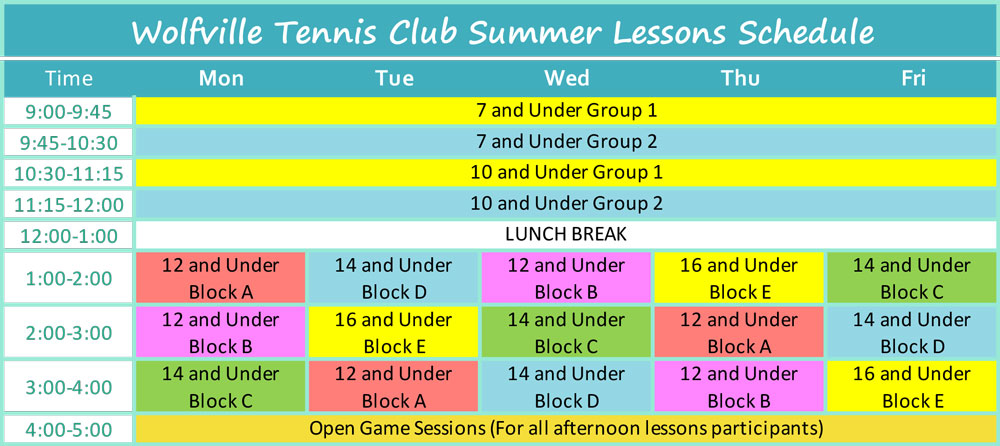 Fees: Lessons are $25/week or $150 for the entire summer (8 weeks). Click on the group you wish to sign up for, and then select individual weeks or "All Weeks" (last option).
A separate membership fee is NOT required for junior lessons this year -- membership is included as part of the lesson fee. We will no longer give multi-child discounts, but the per child fees are lower, and as a result all families will get a break on fees. Plus, under our new website, you can register only for the weeks you want, or for the entire summer, allowing greater flexibility in terms of scheduling.
Registration is limited to 10 kids per group. If you need assistance with registration, please contact [email protected].