Victoria Tennis Club
Welcome to
About Us
Hello and welcome to the website of the Victoria Tennis Club (VTC), one of the oldest tennis clubs on Vancouver Island. We're glad you found us and hope you will join us for some competitive and fun tennis.
Located in Victoria, British Columbia, we are a small organization of 30 - 40 enthusiastic tennis lovers who live in Victoria and the surrounding communities. Our weekly play and other activities are organized by volunteer members of the Club's Executive with games taking place on public courts reserved in advance.
The Club is committed to protect the health and safety of all including with respect to COVID-19. All players may required to sign a Waiver and a Participant Agreement in respect to compliance with COVID-19 protocols and/or regulatory body orders that may be in effect from time to time.
The start of the Club's indoor season is marked by the Annual General Meeting, usually the first Sunday in October, at the Cedar Hill Recreation Centre. We have three, occasionally four, courts booked on Sundays, 11:30 a.m. - 1:30 p.m., from October through April. Typically we play three forty-minute "matches" of doubles / mixed doubles, allowing for three sessions with new partners / opponents for each session.
Our annual "Spring Icebreaker" usually takes place the third or fourth Sunday of April, kicking off our outdoor season. Outdoor games are played at Oaklands Park (Kings Road, west of Scott Street): Sundays we have 3 courts reserved from 10:00 a.m. - Noon and Wednesdays 3 courts are reserved from 1:00 p.m. - 3:00 p.m.
Beginning in mid-May of each season we also have two courts on Sundays (10 a.m. - Noon) at the Banfield courts, on Craigflower Road.
Occasionally we compete against other local clubs in interclub team matches.
Please refer to the Membership page for information on how to join us for an introductory session.
We look forward to welcoming you on the courts!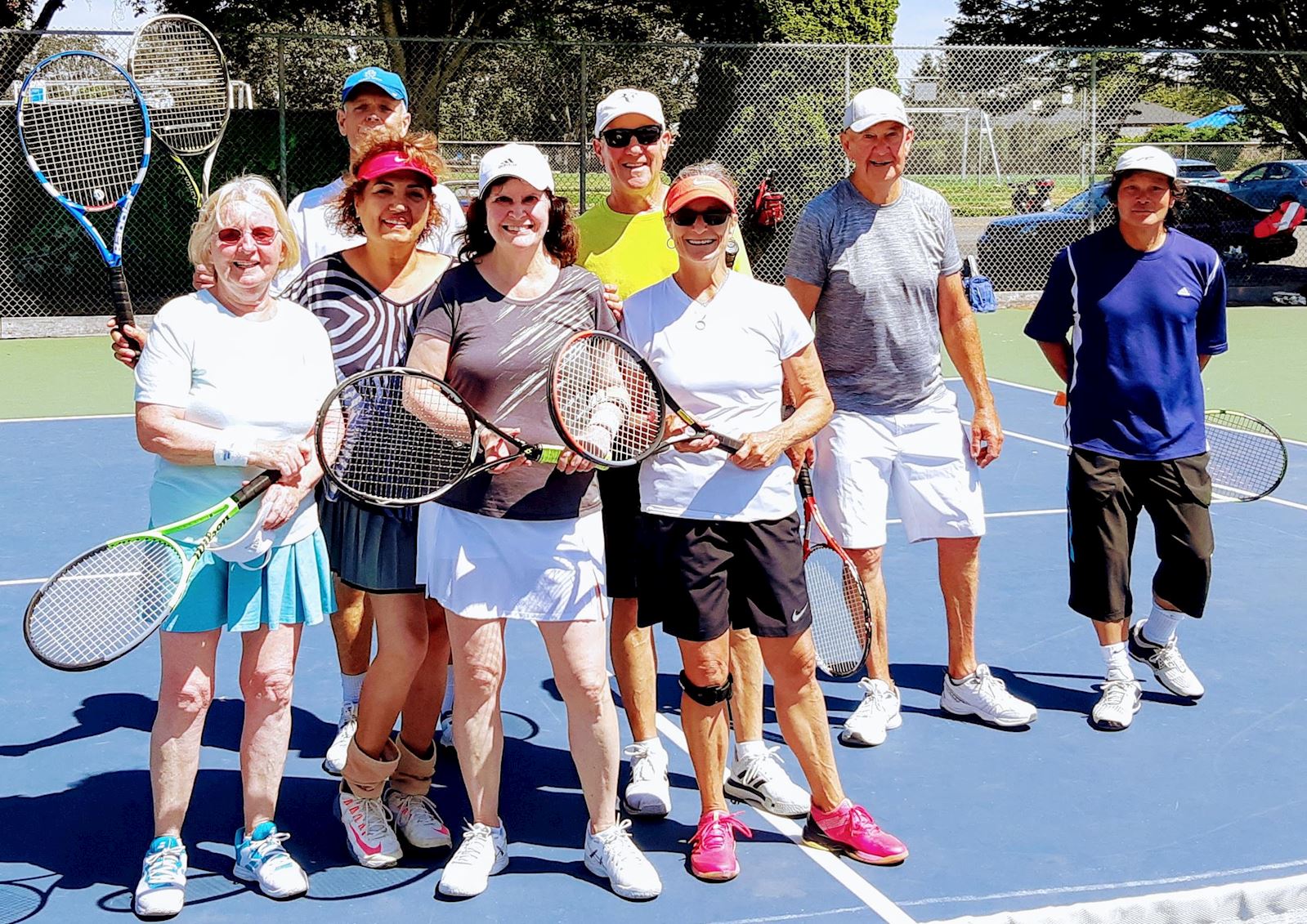 ---
Join our VTC community!
Members get access to our social events, weekly play and more!
How to find us
1500 Kings Rd Victoria British Columbia