Coaching
Junior Lessons!
Thu, 25 May 2023 00:00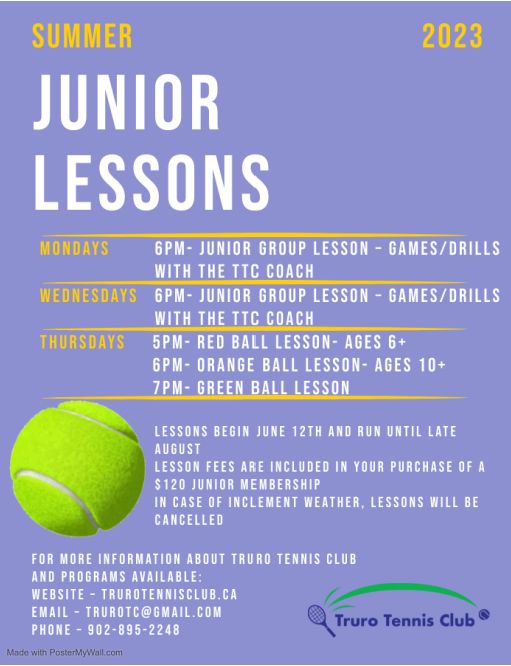 Attention all juniors! Summer tennis lessons at the Truro Tennis Club are rapidly approaching!

Starting June 12th and continuing until the end of August, we will be holding lessons for our junior members. We will be holding Red Ball, Orange Ball, and Green Ball lessons, as well as two group lessons full of games and drills with the TTC coach each week, meaning each junior member can attend up to three lessons per week!

Here's a peek at our schedule:
Mondays at 6pm – Junior Group Lesson – games/drills with the TTC coach
Wednesdays at 6pm – Junior Group Lesson – games/drills with the TTC Coach
Thursdays at 5pm – Red Ball Lesson – ages 6+
Thursdays at 6pm – Orange Ball Lesson – ages 10+
Thursdays at 7pm – Green Ball Lesson

In case of inclement weather, all lessons will be cancelled.

All costs associated with our junior lessons are included in your purchase of a $120 junior membership. Juniors also have access to the TTC courts to practice and play throughout the season.

Sign up for your junior membership today on the membership page of this website! If you have already purchased your membership and would like to sign up for these lessons, please send us an email at [email protected]. We would love to get a big turnout, so please feel free to share with anyone who might know any juniors interested in lessons!